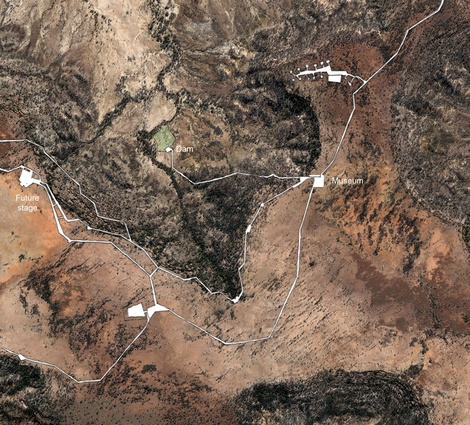 In 1999 grazier David Elliott stumbled over a large fossilized bone on his property near the outback town of Winton, in central western Queensland's "dinosaur triangle." The bone belonged to a twenty-metre-long, four-legged dinosaur that lived more than ninety-five million years ago. The discovery was proclaimed as Australia's largest sauropod find.
After unearthing hundreds more fossils, David and Judy Elliott lobbied for funding to establish a museum near Winton to display the dinosaur bones. State and federal governments and the local council all chipped in and the architect and building contractor worked pro bono on the first phase of the building program, the reception centre for the museum. A local landowner gifted the Australian Age of Dinosaurs Museum of Natural History a mesa or "jump-up."
This dramatic, flat-topped outcrop of land rises steeply out of the extended plain, a commanding site. On top of the jump-up, the Elliotts first put up a big tin shed to serve as a workshop where tons of fossils being unearthed in the Winton region are cleaned, sorted and stored.
The area has yielded the world's largest collection of dinosaur bones. Next they planned for this small interpretive reception centre that has been built five hundred metres from the workshop. The Elliotts heard about an architect in Brisbane. It would be longer than a year before Cox Rayner took on the project, but when the architects did become involved, they were won over by the Elliotts' enthusiasm and knowledge ...
CLICK HERE TO READ MORE & GO TO SOURCE